3 days / 2017
Fly Dubai is the only choice to fly to Asmara, Eritrea capital from Dubai. Once they refused me to get on board because I was alone. I found someone who became my attendant among the same flight passengers. One Eritrea lady became my attendant. Of course we did not know each other before. Fly Dubai also forced me to pack my wheelchair by clear wrap sheet. It cost 25 Dinar = 7 US$. No borading bridge at Dubai airport terminal 2. Fly Dubai was not kind for wheelchair passengers. They did not allow passengers who cannot walk to use airplane alone. This is discrimination. Anyway wheelchair users had better not use Fly Dubai.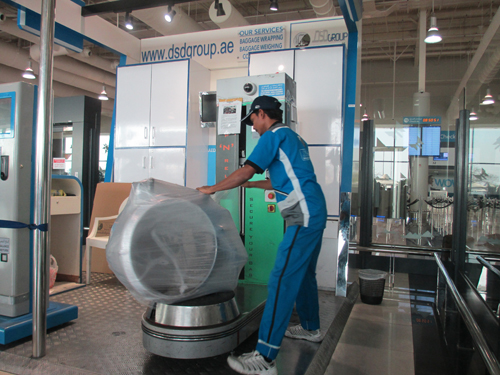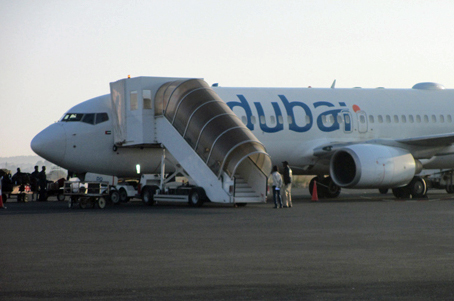 Arrive at Asmara airport. No bridge, no cabin chair, no lift car. Airport staff carried me down. Thanks.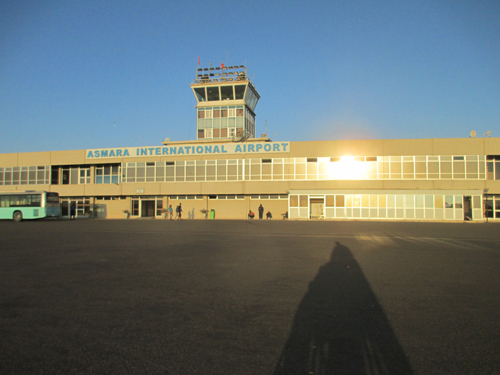 All Eritrean passengers brought a lot of luggage max 30kg from Dubai. Many also buy beers, tobacco, oils, margarine and hard liquor at duty free shop before going out of the airport. Not so many products in Eritrea isolated long term in the world.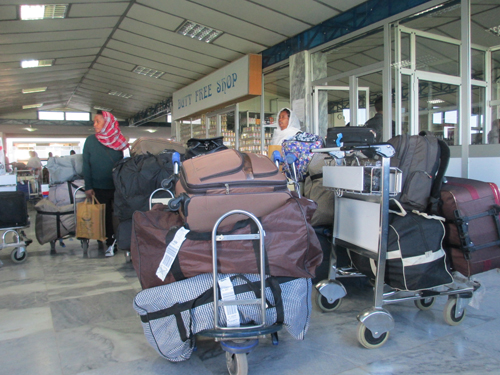 My attendant also helped me to find my hotel in Asmara by her husband car. We found a nice hotel as 4th visit. So lucky to see a kind Eritrean.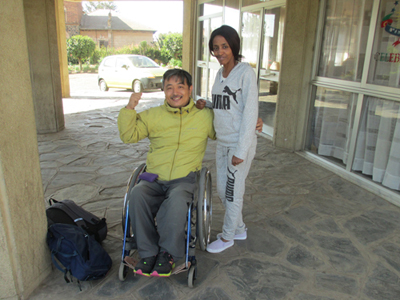 Asmara Harnet Avenue. Calm and peaceful. Asmara is located on highland 2347 meter. The weather was cool in October.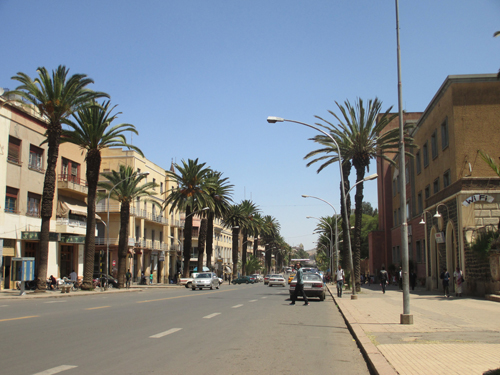 Lunch at a nice restaurant. Erirean food is almost same as Ethiopian which is the best in Africa.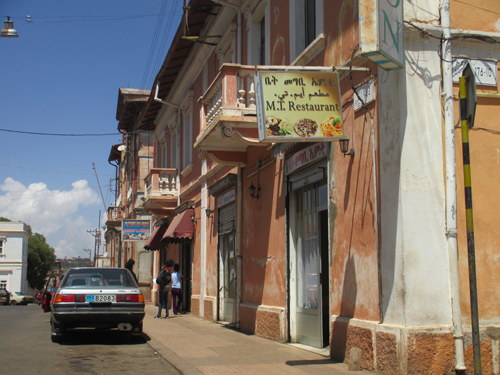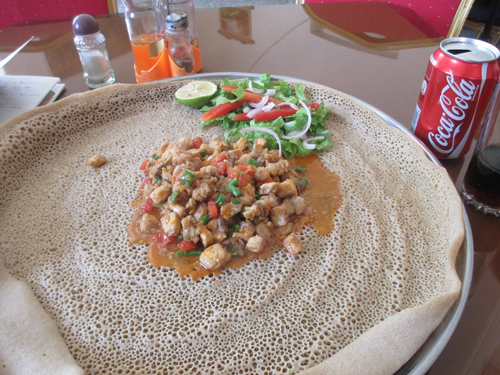 Old church in the city. Unfortunately only stairs. I could not enter.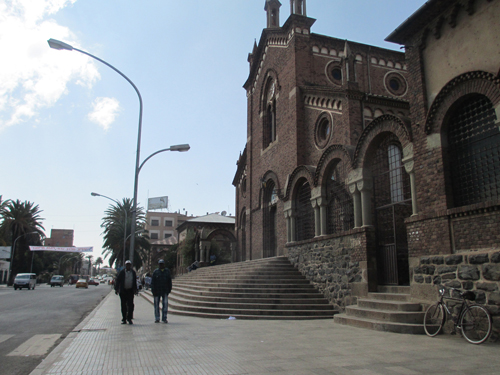 Many wheelchair people in town. 3 wheels motor bike is so popular in Asmara.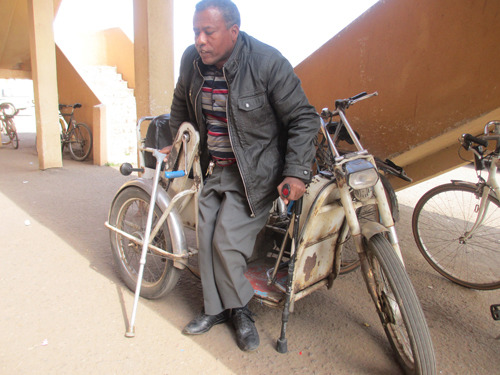 Ex Italian colony. 3 wheels bike engine was Vespa. Cafe culture is popular. Many many nice cafe on street. Nice coffee and sweets.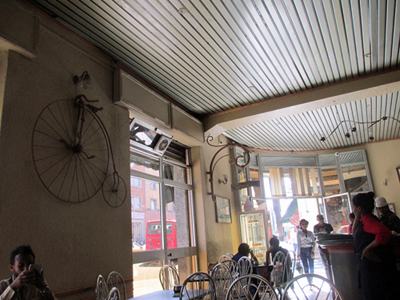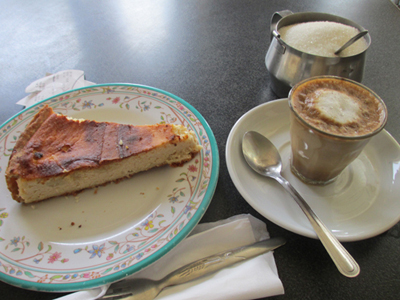 Eritrea is bicycle country as Brazil is soccer country.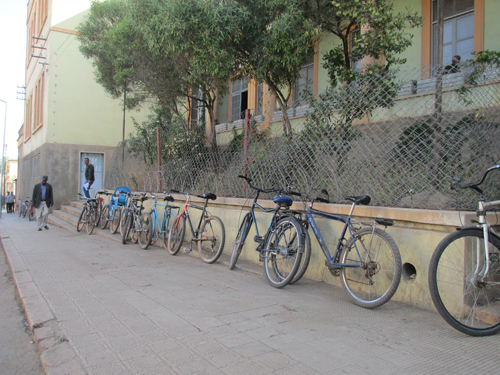 Many bicycle shops on street. If wheelchair is broken or flat tire, no problem here.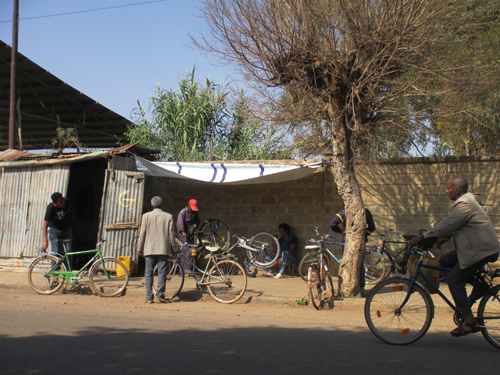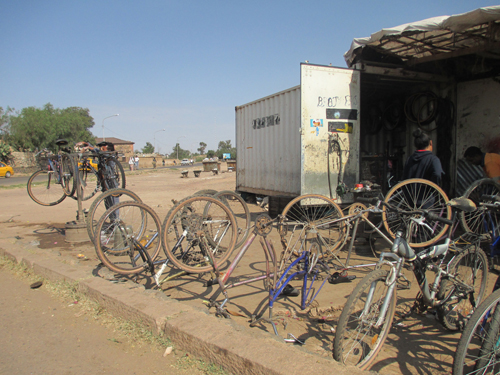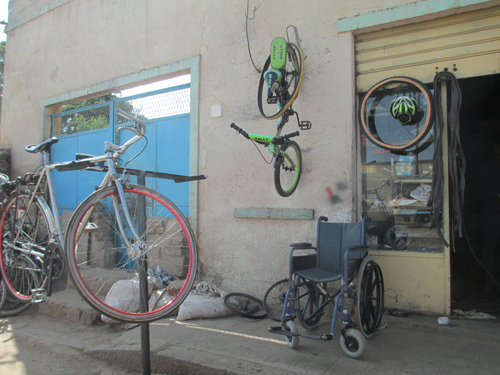 Bus terminal always busy.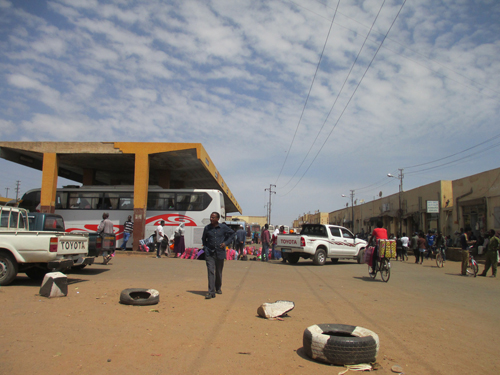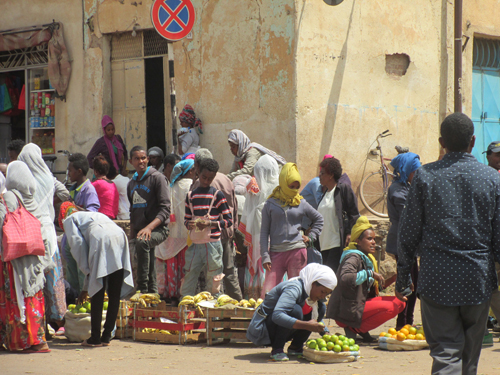 Street. Some hilly road in Asmara. Generally clean and safe.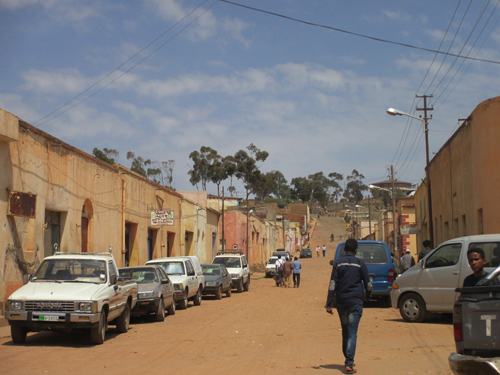 Eritrea main food " Ingera " is made from these grass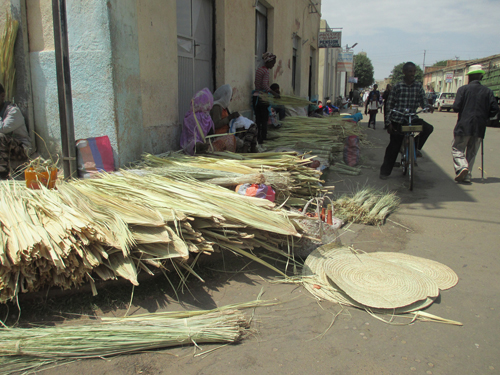 Goat shop. They sell alive goats. So fresh.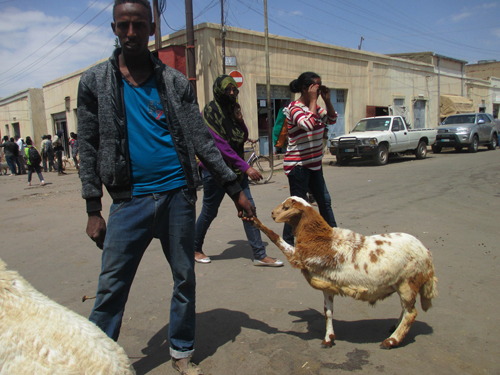 Person with disability in the market. Many veterans who were injured by war.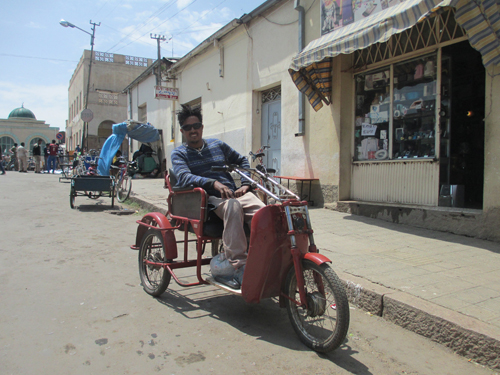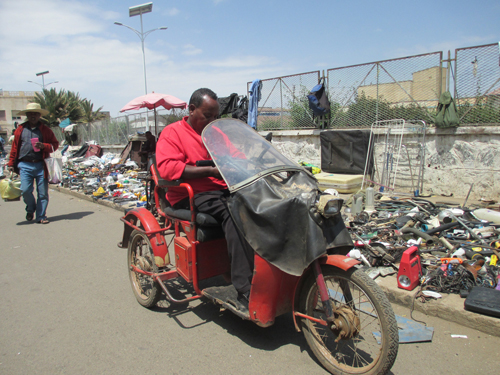 Religious. Half Christian and Half Muslim. Italy made beautiful colonial buildings.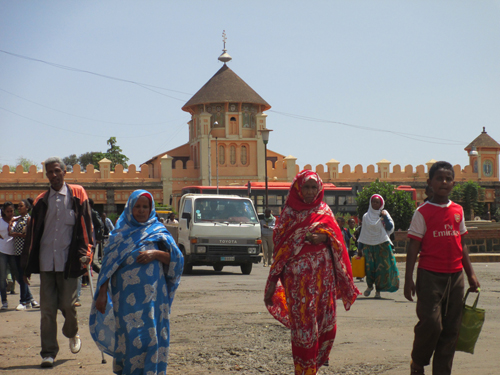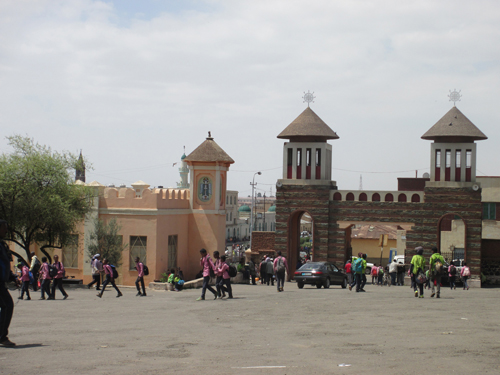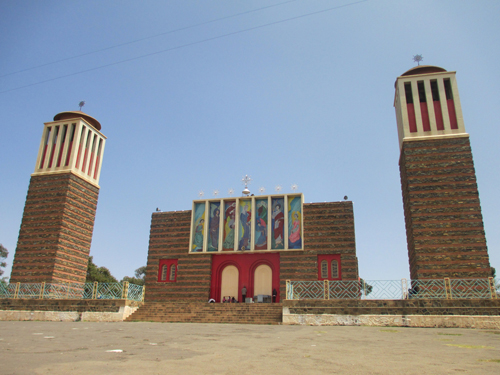 Fruits on street like drinking a natural juice.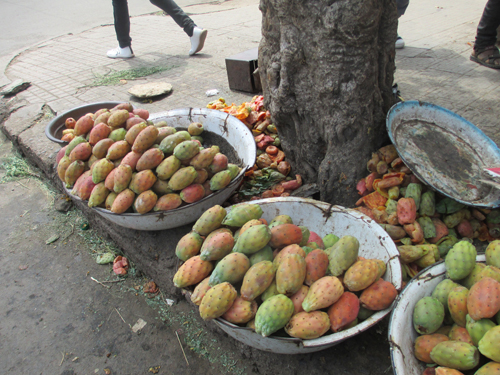 Big mosque in central city. 2 wheelchair people pray outside. I hope the religious place become wheelchair accessible.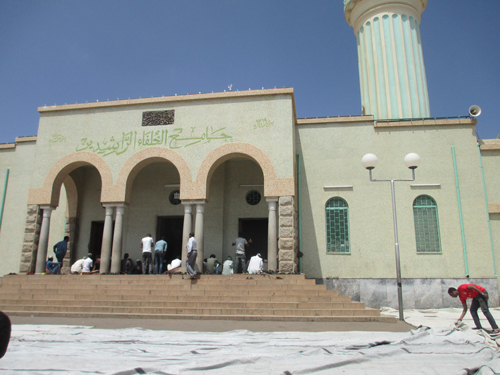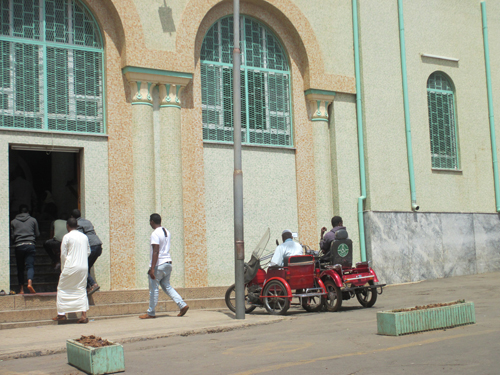 3 wheels bike wheelchair man.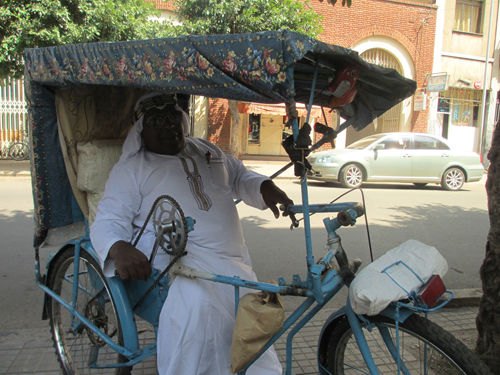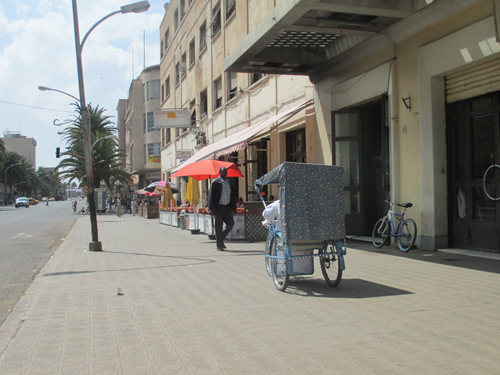 Lunch at restaurant. Taste so good !!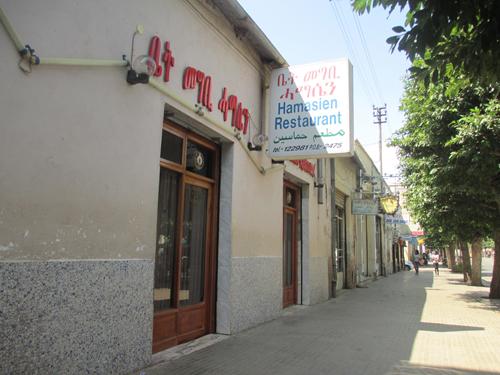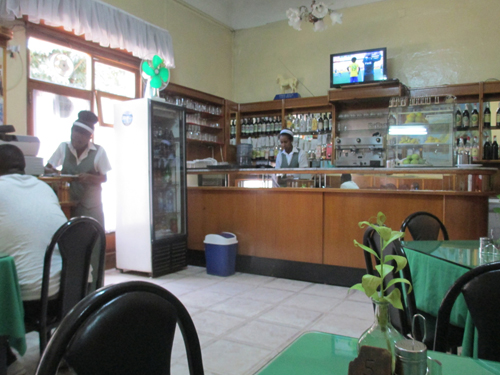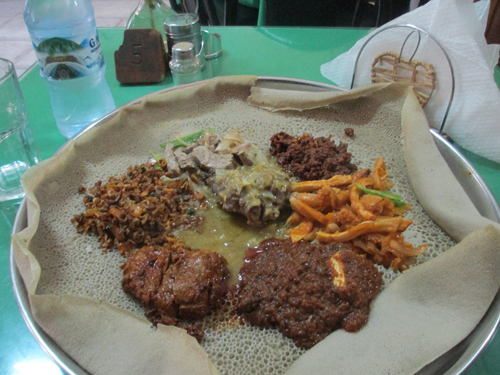 ---
* Sudan *
Khartoum airport. They have a lift car but no cabin chair.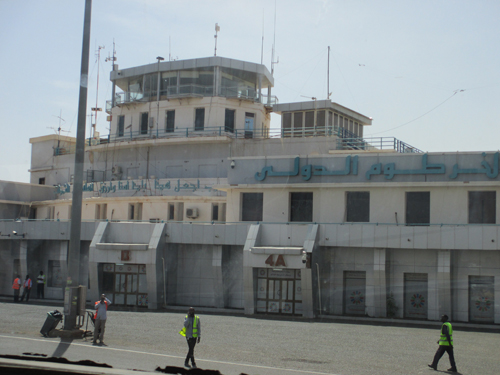 Local bus terminal in the capital photo from taxi.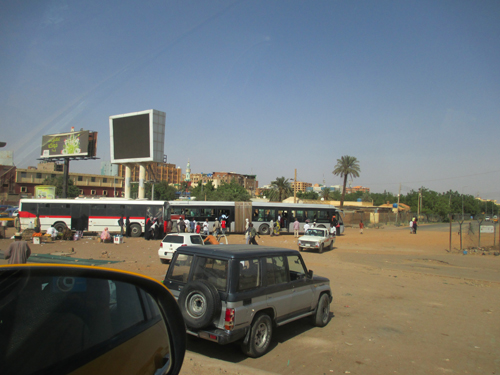 Khatoum city video from taxi side seat.
I stayed at a good hotel. Sudan handsome workers.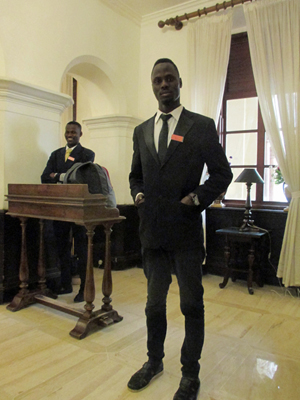 Sandwich on street.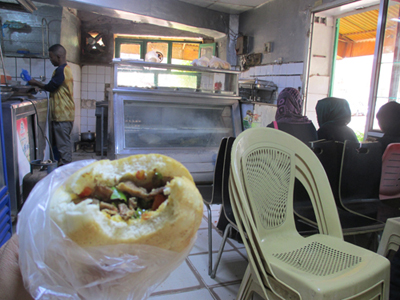 No tourists. No foreigners. Not so safety. I was a quite stranger. Not so easy to take a photo on street.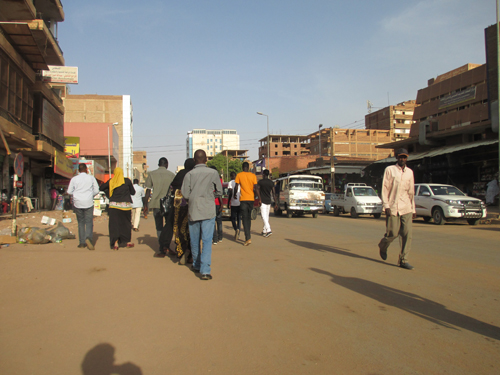 Many water bottles in front of shops. It is free to drink. So hot in day time.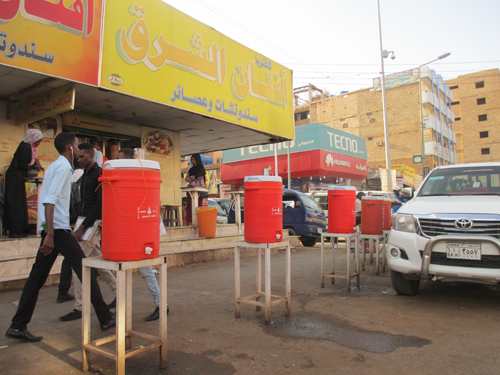 Early dinner before sunset. Chicken kebab. It tastes not so good.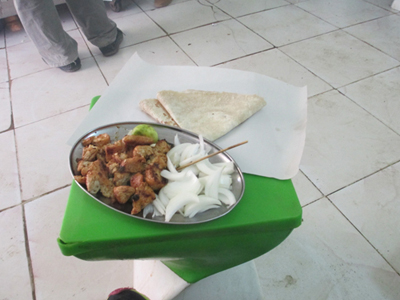 1 night 2 days stay in Khartoum. Enough for me.